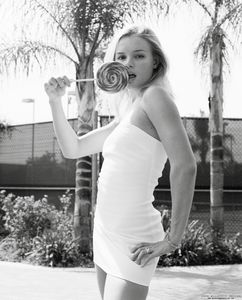 I WISH YOU WERE MY LOLLIPOP
SWEET THINGS I WILL NEVER GET ENOUGH
IF YOU SHOW ME TO THE SUGAR TREE
WILL GIVE ME A SODAPOP FOR FREE?
Excuse bidon pour poster une vidéo. N'importe laquelle à vrai dire, du moment que ça groove. Parce que c'est pas que j'ai la gueule à moitié dans le coltard depuis plusieurs jours mais presque. Ajoutons à celà un cliché de la délicieuse Kate Bosworth parce que je viens de finir de m'avaler pour la millième fois Young Americans, et pour la millième fois je me dis que putain, 13 épisodes c'est chié quand même, surtout que voilà, Ian + Katherine c'était beau, même très beau, et que NON The L Word c'est pas pareil, même si Kat reste rrrrrr, rendez moi Jake Pratt bordel.

Et puis j'ai repensé à de vieux trucs dit au détour de conversations mal digérés. Sur le moment j'avais pas vraiment tilté mais là, ça m'a paru tellement clair que je me suis demandé ce qui me retenait encore là. J'ai jamais aimé les claques dans la gueule, et tout particulièrement celle là. Maintenant je me demande ce que j'aurai bien pu faire si rien ne s'était passé. C'était la pensée conne du jour. Nécessaire.